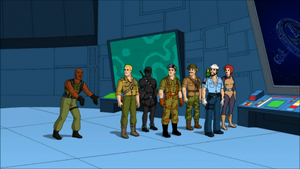 G.I. Joe: A Real American Hero is a military-themed line of action figures and toys in Hasbro's G.I. Joe franchise. The toyline lasted from 1982 to 1994, producing well over 500 figures and 250 vehicles and playsets. The line reappeared in 1997 and has continued in one form or another to the present day. It was supported by two animated series as well as a major comic series published by Marvel Comics.

G.I. Joe is parodied with a Mexican counterpart G.I. José in "Back to the Woods" and in "Seahorse Seashell Party". Happy-Go-Lucky Toy Factory creates a G.I. Jew doll in "Death Has a Shadow".
Flint appears in "North by North Quahog", telling the students of Buddy Cianci Junior High School not to drink alcohol.
In "PTV", Cobra Commander is the Chairman of the FCC Board of Directors. He urges his employees to heavily censor television.
Flint also appears as a toy in the Robot Chicken universe in "Road to the Multiverse".
In "Big Man on Hippocampus", Stewie introduces himself and Brian to Peter as "Tomax and Xamot", twin characters from G.I. Joe.
Stewie tries to explain the concept of G.I. Joe in "Amish Guy".
Community content is available under
CC-BY-SA
unless otherwise noted.