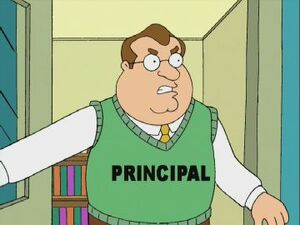 Gary Michael Cole (born September 20, 1956) is an American actor. Cole is best known for his supporting roles in numerous television and film productions in the 1990s and the 2000s. He is perhaps best known for his role as Bill Lumbergh in Office Space, the evil Sheriff Lucas Buck in the television series American Gothic and as Mike Brady in the The Brady Bunch movies. He voiced Harvey Birdman in Adult Swim's Harvey Birdman: Attorney at Law.
He primarily voices Principal Shepherd, the principal of James Woods Regional High School.
He reprised his role as Lumbergh in "The Father, the Son, and the Holy Fonz" and his role as Mike Brady in "Spies Reminiscent of Us" and "Excellence in Broadcasting". He also provides the voice of Mr. Harrison in "Mr. Griffin Goes to Washington".
Community content is available under
CC-BY-SA
unless otherwise noted.