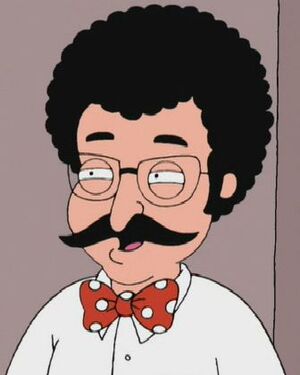 Gene Shalit (born March 25, 1926) is a film and book critic. He had filled these roles on NBC's Today from January 15, 1973 until November 2010. He is known for his frequent use of puns, his oversized handlebar moustache, and for wearing colorful bowties.
He is known to have had a rocky relationship with former Today co-host Bryant Gumbel. He has been involved in reviewing the arts since 1967. He has written for publications including Look Magazine, Ladies Home Journal, Cosmopolitan, TV Guide, Seventeen, Glamour, McCall's, and The New York Times.
In "Ready, Willing, and Disabled", after Peter has revealed he put steroids in Joe's water before the final event and ends his fame, Peter thinks Joe's waiting to be interviewed by Gene Shalit.
Peter turns himself from Britney Spears into Shalit while kissing Justin Timberlake in the "Supergriffins" segment of "Family Guy Viewer Mail No. 1".
In a flashback in "Brian Sings and Swings", Peter is mugged by Shalit. Shalit threatens Peter using movie titles and actors: "Don't...Panic Room; I'm not going to...William Hurt you. I only want your...Tango & Cash, so just...Pay It Forward and we'll all be...Happy Gilmore." Peter, confused then asks what just happened.
In "Tiegs for Two", when Mr. Washee Washee remarks that all Americans look the same to him, Peter's face is replaced by a live-action photograph of Shalit's face, which is animated South Park style.
Peter sets up a cutaway in "The Book of Joe" in which he assures Joe that he can pull off pretending to be someone he's not when Joe needs him to stand in for him. Peter dresses as the ghost of Roger Ebert and haunts Gene, claiming to still be a better critic in death, only to be thwarted by a crucifix. Gene's wife JoAnne who appears wearing the same mustache wakes up and is reassured by Gene that everything is alright as they make love.
Community content is available under
CC-BY-SA
unless otherwise noted.