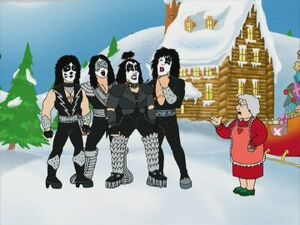 Gene Simmons (born Chaim Witz on August 25, 1949) is an Israeli-American rock bassist, singer, songwriter, musician, actor, and businessman. He is well known as "The Demon", the bassist in the hard rock band KISS, a group he co-founded in the early 1970s.
In "A Very Special Family Guy Freakin' Christmas", he co-starred in Kiss Saves Santa, the band's Christmas special.
In "Road to Europe", he and the band arrive in Quahog, Rhode Island for KISSstock, a festival celebrating the band's music. When they stop for a bite to eat, he bumps into Lois Griffin, an ex-girlfriend, and her husband Peter. Gene and Lois dated before Gene became famous. When Peter learns this, he no longer thought of his wife as an embarrassment following a botched performance of "Rock and Roll All Nite", taking pride in the fact that his wife slept with Simmons.
In "Don't Make Me Over", he appears on the tourbus of Meg and the Griffins in support of tongue wagging. His tongue becomes so long he has to roll it back up manually. He later appears on the set of Saturday Night Live for the goodbyes. He sticks his tongue in George W. Bush's ear. In the same episode, he also voices prisoner #3.
His relationship with Lois is mentioned in "Seahorse Seashell Party" when Meg stands up to Lois for being a bad mother.
In all appearances of his likeness, he voices himself.
Lois' dressing room in "Inside Family Guy" features photographs of her embracing various past guests including Gene Simmons, Ryan Reynolds and Liam Neeson.
Filmography
Community content is available under
CC-BY-SA
unless otherwise noted.