Wiki Targeted (Entertainment)
Play Sound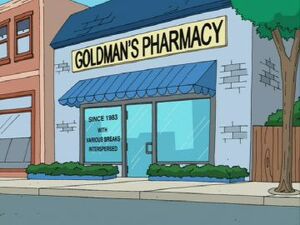 Goldman's Pharmacy is the local Quahog, Rhode Island pharmacy owned by Mort Goldman. It has been open since 1983.
In "Brian the Bachelor", Chris Griffin breaks into the pharmacy to steal all the anti-stringent cream on the orders of his pimple, Doug.
In "Ready, Willing, and Disabled", Peter Griffin buys steroids here to enhance Joe Swanson's athletic performance.
Lois appears as a model in advertisements for the pharmacy in "Model Misbehavior". The Greased-up Deaf Guy was also chased through the pharmacy with a broom.
In "Hell Comes to Quahog" it is run out of business by Superstore USA, but reopens when the store franchise shuts down at the end of the episode. It is revealed it is located next to Cleveland's Deli.
In "8 Simple Rules for Buying My Teenage Daughter", Peter runs up a large bill on credit and tries to sell Meg to settle the debt.
In "Long John Peter", Peter and his band of pirates loot and pillage the pharmacy.
In "Family Gay", Peter attempts to dispose of his dead horse 'Til Death by flinging it through the pharmacy window. Mort returns the horse through the Griffins' window at the end of the episode.
Meg attempts to hold up Mort in "Dial Meg for Murder".
In "And Then There Were Fewer", it is revealed that James Woods talked Mort's wife Muriel into selling him drugs for him and his girlfriend.
After Muriel's death, Mort finds himself in financial trouble in "Burning Down the Bayit" as he isn't able to cheat the customers the way she could. With Peter and Quagmire, they plot to burn down the pharmacy to collect the insurance. But Peter slips up and Joe arrests them, only to let them free when they bring back memories of how an insurance company screwed Joe after his paralyzing accident.
Mort re-opens the pharmacy in "Tea Peter".
Neil Goldman mentions Marcy Miller buying hygiene products at the pharmacy to Chris in "An App a Day".
Believing him to be dripping urine, Mort chases Brian out of the pharmacy in "Short Cuts".
Community content is available under
CC-BY-SA
unless otherwise noted.