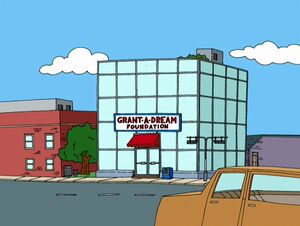 The Grant-A-Dream Foundation is a fictional non-profit organization in the United States that grants wishes to children 2.5 years to 18 years old who have life-threatening medical conditions. Its name is a parody of the Make-A-Wish Foundation. It should be noted that each year, the Make-A-Wish Foundation collaborates with ESPN for a one-week SportsCenter segment called "My Wish", which grants sports-related wishes.
In "If I'm Dyin', I'm Lyin'", the foundation granted three kids' dreams: Johnny Gobraun became quarterback for the New England Patriots, Jeremy the Terminally ill Boy was a celebrity square on Hollywood Squares, and Chris Griffin had them convince NBC to revive the recently canceled Gumbel 2 Gumbel Beach Justice.
Community content is available under
CC-BY-SA
unless otherwise noted.