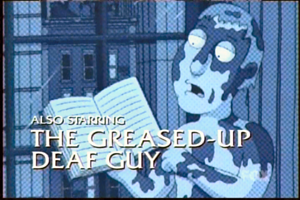 The Greased-Up Deaf Guy first appeared during the Happy-Go-Lucky Toy Factory company picnic in "The Thin White Line". One of the contests at the picnic, which happens to be Peter Griffin's favorite, is to catch the Greased-Up Deaf Guy. He is released from a cage screaming in a high pitched voice, and ran off into the forest.
He supplied Brian and Stewie with cocaine to frame Jake Tucker for getting Chris in trouble in "North by North Quahog" and claimed he was once a lawyer. He spoke for all of the show when he said it was good to be back on primetime television at the end of the episode.
He appeared in the Law & Order opening theme parody that began "Fast Times at Buddy Cianci Jr. High".
In "Model Misbehavior", he runs around Goldman's Pharmacy knowing he can't be caught. The owner, Mort Goldman, chases him out with a broom.
In the second segment of Stewie Griffin: The Untold Story, entitled "Bango Was His Name Oh", Stewie Griffin used him so Brian would believe where he got the Three Men and a Baby ghost rumor.
Peter gives him a shoutout on The Price is Right in "New Kidney in Town".
The origin of the Greased-up Deaf Guy is revealed in reverse in "Yug Ylimaf". When he is late for a meeting, he is caught in the explosion of a grease truck which burns off his suit and renders him deaf.
At Family Guy: Live! in Montreal in the Family Guy Volume 6 DVD, The Greased-Up Deaf Guy was named "Jay" after a fan asked a question about his real name. Mike Henry named him Jay after the audience member who asked the question. However, there has been no official recognition in the show and the name is considered unofficial at this time.
In a talk-show style ending to "Chris Has Got a Date, Date, Date, Date, Date", the show ends before the Greased-up deaf guy can appear.
The Greased-Up Deaf Guy is voiced by Mike Henry.
Filmography
Community content is available under
CC-BY-SA
unless otherwise noted.