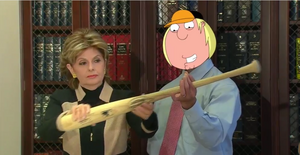 During the Gloria Allred cutaway, Chris' head is superimposed over that of Justin Quinn during a press conference that sought to publicly shame Atlanta Braves' pitching coach Roger McDowell who had unleashed threats toward Quinn and his three daughters following a complaint about homophobic slurs.[1]
Stewie recognizes that Meg is slipping references to films with Sean Astin into her speech, including The Goonies, Rudy and Encino Man.
Meg's battle cry is "Lacey Chabert!"
When Meg fires her rifle, it jerks upward with recoil. In reality, biathlon rifles have almost no recoil. [2]
Peter claims that Ryan Gosling has never been uncool in a movie. In Lars and the Real Girl, he played a socially inept loser.[3]