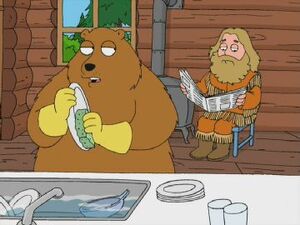 The Life and Times of Grizzly Adams, is the title of a 1972 novel by Charles E. Sellier Jr., a 1974 film based on the novel, a two-season NBC television series, and a 1982 TV movie. The title character — played by Dan Haggerty—is loosely based on the actual trapper, J. Capen "Grizzly" Adams.
Grizzly Adams is a woodsman during the frontier era who flees into the mountains after he is wrongly accused of murder. While struggling to survive, Adams discovers an orphaned grizzly bear cub whom he takes in and calls Ben. The bear, despite his huge adult size, becomes Adams's closest companion.
Adams and Ben have an interesting relationship in "Brian Wallows and Peter's Swallows". Ben gets jealous when Adams meets another man named "Steve".
Community content is available under
CC-BY-SA
unless otherwise noted.