Wiki Targeted (Entertainment)
Play Sound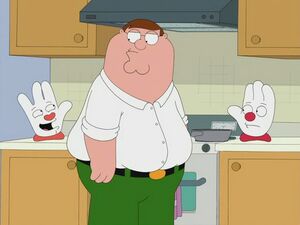 Hamburger Helper is a line of packaged food products primarily consisting of boxed pasta bundled with a packet or packets of powdered sauce/seasonings. The contents of each box are combined with browned hamburger meat, water and milk to create a complete dish. The product line also features products with other starches such as rice or potatoes instead of pasta.
The Hamburger Helper mascot is the "Helping Hand", an anthropomorphic animated, four fingered left-hand glove, which appears in the product's television commercials and on the packages. A left-handed glove is used, making the Helping Hand right-handed. The thumb of the glove serves as the Helping Hand's "hand".
The Hamburger Helper Helping Hand appears with his mentally retarded brother Cheeseburger Helping Hand in "Business Guy". Hamburger Helper hand got his brother a job as the Cheeseburger Helper mascot as a way to take care of him. Peter Griffin remarks that Cheeseburger Helper is pointless since he could just add cheese to the normal stuff, which the hand angrily says isn't the same.