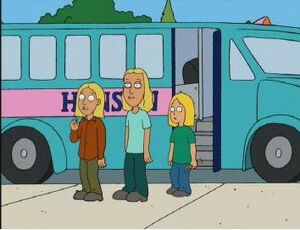 Hanson is an American pop rock band formed in Tulsa, Oklahoma by brothers Isaac, Taylor, and Zac Hanson. They are best known for the 1997 hit song "MMMBop" from their major label debut album Middle Of Nowhere, which earned three Grammy nominations.
They appear in "Chitty Chitty Death Bang" asking the Griffins if they can use the phone. Meg, a fan, gets very excited, but before she can do anything, her father Peter shoots them, thinking they are the Children of the Corn.
In "Let's Go to the Hop", a Hanson poster is seen on the wall in Meg's room.
In "A Fish out of Water", Glenn Quagmire says he would have Taylor Hanson, the lead singer, if he could have any girl in the world, not realizing that Taylor is a boy.
In "Baby, You Knock Me Out", Cleveland Brown sang "MMMBop" to Peter Griffin for the latter's birthday on his birthday card. Hanson's version was playing on the radio, and Cleveland sang along, not knowing he did not turn off the card's recording.
Community content is available under
CC-BY-SA
unless otherwise noted.