Wiki Targeted (Entertainment)
Play Sound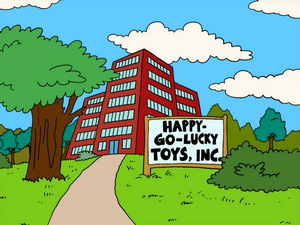 The Happy-Go-Lucky Toy Factory is the company Peter Griffin worked for until "Mr. Saturday Knight". The company was owned by Jonathan Weed for most of its 23 year history, but was also owned by the El Dorado Cigarette Company in "Mr. Griffin Goes to Washington". During this period the workers are bought over by a high quality recreation center. Peter is promoted to president and is sent to make Congress veto a bill that would cripple the company. Lois sees through the ploy, but then the family is bought over by expensive gifts. Peter is about to make a speech to Congress convincing them to veto the bill until he has a change of heart when he hears Stewie coughing.
In "Death Has a Shadow", Peter is the safety inspector at the toy factory. After a late night of drinking, he falls asleep at work the next day, allowing extremely dangerous toys to be boxed and released. The company receives bad press for this and Peter is fired but eventually gets his job back.
Peter's father, Francis Griffin, came out of retirement to work here in "Holy Crap".
In "One if by Clam, Two if by Sea", it is revealed Peter had been working there since 1977, which, as of "Meet the Quagmires", would've made him 11 years old.
The company was shut down after Mr. Weed died in the Griffin Family household, and the factory was demolished in order to make way for a center to provide care for the terminally ill.
Among its creations are G.I. Jew, the Silly Ball, Pound Poochies, Mr. Zucchini Head, and Baby Heimlich.
Peter confesses that it was his dislike for condoms that led to his becoming a married family man with a "crappy" job at the toy factory in "Meg Stinks!". Despite Meg's original belief that he liked his job, Peter claims he always wanted to be a podiatrist instead.
Peter's toy job is brought up in "Peter, Chris, & Brian" by his teenage self as he optimistically looks forward to not working any of several dead-end jobs that Peter did actually obtain.