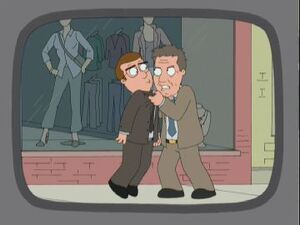 Harrison Ford (born July 13, 1942) is an American film actor and producer. Ford is best known for his performances as Han Solo in the original Star Wars trilogy and as the title character in the Indiana Jones film series. He is also known for his roles as Rick Deckard in Blade Runner, as John Book in Witness and as Jack Ryan in Patriot Games, and Clear and Present Danger. His four-decade career also includes roles in several other Hollywood blockbusters, including Apocalypse Now, Presumed Innocent, The Fugitive, Air Force One, and What Lies Beneath.
Indiana Jones portrayals have appeared in episodes including "Fifteen Minutes of Shame", "When You Wish Upon a Weinstein", the first Stewie Griffin: The Untold Story segment, "Stewie B. Goode" and in "12 and a Half Angry Men".
His role as Han Solo is assumed by Peter Griffin in the Family Guy Star Wars parodies, entitled Blue Harvest, Something, Something, Something, Dark Side, and It's A Trap!. In Harvest, Solo introduces himself as the only one whose movie career isn't destroyed by the film series. Ironically, while Mark Hamill and Carrie Fisher, who played Luke Skywalker and Princess Leia, respectively, have done voice work for the show, Ford has not.
In "Stewie Kills Lois", Brian is watching a film in which Ford tells random people he wants his family back.
Harrison Ford assists with getting the skydivers off the plane in "Turban Cowboy".
The family watches Yet Another Indiana Jones Movie in "Once Bitten" in which an elderly Ford is not pleased to run into yet another snake, while the snake feels the same way about aging potheads.
Ford is voiced by John Viener.
Community content is available under
CC-BY-SA
unless otherwise noted.