Meg does not appear in this episode, although she is mentioned as liking Peter and Lois' Facebook check-in at the adult book store.
The band Smash Mouth is scheduled to play at the adult bookstore that Peter and Lois shop at.
Although he is normally the clerk at the Quahog Mini-Mart, Carl is also working at the adult bookstore.
Chris' Greek character is named ACL, short for anterior cruciate ligament. ACL is a painful tearing of the ligaments to the knee caused by a sudden movement. He is paired with Stewie's Achilles, a mythological Greek warrior during the Trojan war, known for his heel being his only weakness.[1][2]
Stewie's discussion of Socrates includes asking about drinking wine, keeping secrets and being his fault, hinting at molestation.
Stewie notes that all three of Helen's fathers will be attending her wedding. According to legend, her father was Zeus who seduced her mother while in the shape of a swan, while her mother's husband was King Tyndareus of Sparta.
Peter mentions Launchpad McQuack, a sidekick of Darkwing Duck.[3]
"Dancing Queen" by ABBA plays during Paris and Helen's wedding in a nod to the film Mamma Mia!.
Peter says that the leads in Romeo and Juliet are preteens; actually, Juliet is 13 and Romeo is implied to be several years older.[4]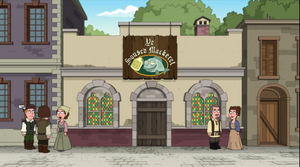 In the Romeo and Juliet segment, The Drunken Clam is parodied as Ye Soused Mackerel.
The theme for The Facts of Life was used as dance music added in post-production in the Fatal Attraction segment.
The Inspector Gadget theme plays as the sex scene music added in post-production.
Although the music in the original film from the lamp scene is from Madame Butterfly, the aria here is Vesti la giubba from Pagliacci as is was performed in a Kellogg's commercial from the 1960s: 'out of Rice Krispies'. This is repeated during the rabbit scene.[5]

Meg previously copied the light switch scene from Fatal Attraction in "Barely Legal".

Although the role is given to Stewie in this episode, in the film Fatal Attraction, the Gallagher's have a daughter named Ellen, not a son.
Community content is available under
CC-BY-SA
unless otherwise noted.