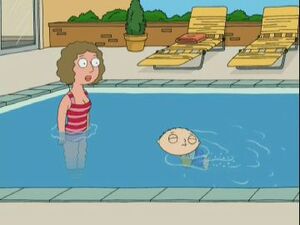 Helen Adams Keller (June 27, 1880 – June 1, 1968) was an American author, political activist and lecturer. She was the first deafblind person to earn a Bachelor of Arts degree. The story of how Keller's teacher, Annie Sullivan, broke through the isolation imposed by a near complete lack of language, allowing the girl to blossom as she learned to communicate, has become known worldwide through the dramatic depictions of the play and film The Miracle Worker.
Keller played Marco Polo with Stewie Griffin in "Peter's Got Woods". Stewie found no enjoyment as he kept on saying Marco but Helen would never say Polo, since she could not hear him. She also did not move, as she could not see anything.
A performance of The Miracle Worker is performed in binary code in "Brian Wallows and Peter's Swallows".
In a DVD-exclusive argument between Stewie and Mort Goldman in "Road to Germany", Stewie says that even Keller would notice that Goldman is Jewish. Brian found the joke amusing.
She also made a brief appearance in "420" during the song "A Bag of Weed", as she is mentioned in the lyrics.
Helen Keller appeared in a cutaway gag in "The Giggity Wife" as a partying college girl who only acts deaf and blind around teachers.
After being enraptured by Mort's wedding to Rachel in "The Marrying Kind", Stewie notes that there is someone for everyone and that even Helen Keller had her tailor, setting up a gag of Keller being fitted with a barrel for a dress.
Community content is available under
CC-BY-SA
unless otherwise noted.