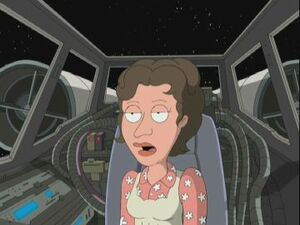 Helen Reddy (October 25, 1941 - September 29, 2020) was an Australian/American singer-songwriter and actress. She has won a Grammy Award, appeared on Broadway and feature films, and been credited with writing and singing one of the most iconic and culturally significant songs of the 1970s, "I Am Woman", "Delta Dawn" and "Angie Baby" topped the Billboard Hot 100, while other major hits included "Leave Me Alone (Ruby Red Dress)", "You and Me Against the World" and "Ain't No Way to Treat a Lady".
Her song "I Am Woman" is the basis for the title of "I Am Peter, Hear Me Roar".
She appears as part of Red Squadron in Blue Harvest, providing her own voice.
She sings the Channel 5 News Theme in "And I'm Joyce Kinney".
Community content is available under
CC-BY-SA
unless otherwise noted.