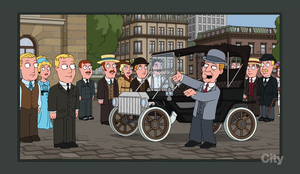 Henry Ford (July 30, 1863 – April 7, 1947) was an American industrialist, the founder of the Ford Motor Company.
Peter and the guys watch American Inventor:The True Story of Henry Ford on The History Channel in "Passenger Fatty-Seven" where Henry Ford presents his automobile as a "Jew flattening machine," despite suggestions that it could also be used as transportation.
He is voiced by Seth MacFarlane.
Community content is available under
CC-BY-SA
unless otherwise noted.