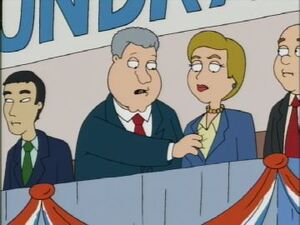 Hillary Diane Rodham Clinton (born October 26, 1947) was the 67th United States Secretary of State, serving in the administration of President Barack Obama whom she lost the nomination to. She was a United States Senator for New York from 2001 to 2009. As the wife of the 42nd President of the United States, Bill Clinton, she was the First Lady of the United States from 1993 to 2001. In the 2016 election, Clinton was the Democratic presidential nominee, losing to Donald Trump via the electoral college in an election widely panned for Russian interference while at the same time, winning the popular vote by over three million.
In "Da Boom", Hillary Clinton watches along with husband Bill while a nuclear warhead goes off outside the Capitol. Bill obviously ambivalent about the prospect, realizes the end of the world is near and decides to grab Hillary's breast as the last thing he ever does.
As the first lady of Petoria in "E. Peterbus Unum", Lois compares herself to Hillary Clinton, but without the penis.
In "Bill and Peter's Bogus Journey", husband Bill referenced her at least once.
Her picture is held by Peter Griffin for the cover of What I Would Do Sexually to Hillary Clinton in "Peterotica".
Images of Trump and Hillary appear at the control center where the Russians rigged the 2016 election in "Petey IV".
Community content is available under
CC-BY-SA
unless otherwise noted.