Boba Fett Returns - The Loop
Play Sound
Holly Bibble
Three Bible stories are told from a Family Guy perspective.

Season: 18 Episode: 19
Total Episode Count: 348
Prod. no.: JACX01
First Aired: May 10, 2020

Guest Starring: Edie McClurg
Featuring:

Assistant Director: John Banh
Writers: Cherry Chevapravatdumrong
Storyboarders: Rob Bou-Saab, Annemarie Brown, Michael Rundle

Plot: Cooped up in a motel room due to a hurricane, the Griffins pass the time by reading the in-room bible...
Adam and Eve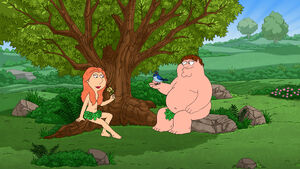 Starting with the first man and woman, they complain to God of being bored. But when He has to go away, warns them not to put their penises in the gopher holes and not to eat the apples. Despite this, Adam is focused only on eating an apple despite Eve's reservations. A serpent convinces her to eat the apples and share them with Adam. When God returns, he kicks them out of paradise and sends them to its opposite...Jacksonville Florida.
The family engages in a conversation about how Adam and Eve's family procreated, which disgusts Meg. After listening to an argument in the parking lot, Peter proceeds to the story of Noah...
Noah's Ark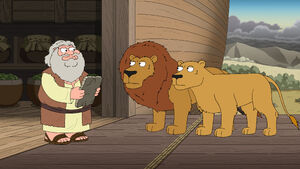 After attempting to steal multiple jokes from Bill Cosby, Noah breaks the news to his wife that he's building an ark, stealing wood from the front of his neighbor's house. Sorting out the animals, he tries to teach his son to sail. Noah also tries to leave out the spiders and snakes. As boredom starts to set in, they finally spy land as Peter closes with more Bible inbreeding.
As they note that usually butt stuff that triggers God's wrath now, both Chris and Peter vow no more butt stuff, but Stewie prays for more rain.
Chris asks for another story and Peter reads the in-room information sheet. Lois tries to go out to get food and runs into Cleveland, quickly ducking back inside. When they look through the mini fridge for food, they find crackers and wine, which reminds Peter of another Bible story...
The Last Supper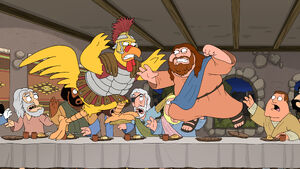 While dyeing Easter eggs, Jesus tells Mary Magdalene that he's going to be having a supper with his guys. Pontius Pilate arranges a deal with Judas to betray Christ. After placing their order and getting their picture taken, Jesus reveals that he will be betrayed that night. Trying to share communion, he gets tired of being interrupted by a birthday song nearby so offers to put it off for a week. But the centurions arrive to arrest him.
The rain stops in the power returns, so the family races each other to the next door Applebee's, but not without pushing down Meg first as the last one across has to pay. Off-camera, they run across the six lane highway where they get chewed out by a passing motorist, which causes a fight between him and Peter.
Back home after the hurricane passes, Meg notes that Chris kept the Bible then he thinks that he'll just get a job as a night security guard and read it a constantly. Cutting to the future, he reads a note he made from the Bible to a guy just looking for a lost and found umbrella. As he searches his Bible for a note about the umbrella, the guy pitches Dianetics which Chris admits he hasn't read but believes in it, which cuts to another scene of him accepting a film award and claiming it is why he isn't gay.