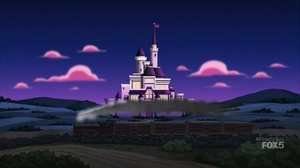 The title is a reference to both the "Hot Pocket" brand of snack sandwiches, and to the practice of "pocket dialing" which is when a cell phone is accidentally activated while in the user's pocket.
Peter and Lois' visit to Auschwitz mimics the common opening for Walt Disney Pictures used since 2006.[1]
Carter awakens thinking of the song "How Much Is That Doggy in the Window".
Stewie compares the appearance of both Neil and Mort Goldman to Coachella, referring to the Coachella Valley Music and Arts Festival.[2]
Quagmire walking naked through a medieval town with Peter yelling "shame" is a reference to Game of Thrones, specifically the walk of shame done by Cersei Lannister in the episode "Mother's Mercy".
Peter's line of "I'm going over there right now and hit him with a shovel like a white trash YouTube girl" is a reference to a viral video of a fight between two teenage girls, Miranda Fugate and Emily Olinger, during which Olinger hit Fugate in the back of the head when she threw a shovel at her. [3]
Community content is available under
CC-BY-SA
unless otherwise noted.