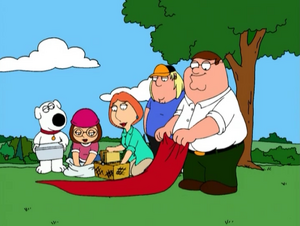 During the scene where the family goes on a picnic, Stewie is nowhere to be seen.
Wile E. Coyote appears riding in a car with Peter & they run over Road Runner in the middle of the desert.
Sunny, the mascot for Kellogg's Raisin Bran, dumps two scoops of giant raisins over the town.
In one of the Star Trek cutaways, Captain Kirk (Shatner) claims the mission will be dangerous, and one of them will likely die. He then brings along, among others, Ensign Ricky, a Redshirt. When Shatner is later run over, Ensign Ricky appears and says, "Man, I did not see that one coming."
CHiPs is also parodied. In it, Ponch pulls over a blonde-haired driver and flirts with her, as two gangs involved in a drive by shooting pass behind him, as well as a semi which is clearly labeled "Pure Uncut Cocaine".
The weather control device options are listed as they would be seen clockwise from the top: Tornado, Partly Cloudy, Hurricane, Apocalypse, Sandstorm, Pestilence, Freezing Rain and Blizzard. The Apocalypse option shows a crudely drawn trefoil-like symbol, indicating that this choice is some sort of nuclear disaster.
The TV has antennas on it, but they use cable. MacFarlane explains in the DVD commentary that this helps distinguish the TV from a microwave.
The gun which Stewie uses to destroy the phone in the yard is used again on later episodes, but in this episode it is yellow, instead of blue.
When Brian reminds Peter of the time he tried to quit candy, the show cuts to a parody of Willy Wonka and the Chocolate Factory. Peter takes the place of Violet Beauregarde.
The Star Trek parody originated from Seth MacFarlane's short film "Life of Larry", except Ensign Ricky said "Aw, shit" instead of "Aw, crap".
During the Scooby Doo cutaway, the gang's van is titled "The Murder Machine" instead of "The Mystery Machine."
Community content is available under
CC-BY-SA
unless otherwise noted.