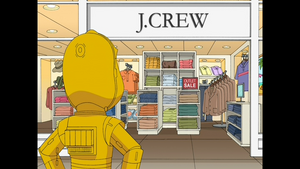 J.Crew Group, Inc., is an American multi-brand, multi-channel, specialty retailer. The company offers an assortment of women's, men's and children's apparel and accessories, including swimwear, outerwear, loungewear, wedding, bags, hair accessories, belts, jewelry, and shoes.
C-3PO/Quagmire separates from the rest of his part when he spots a J.Crew in Cloud City in "Something, Something, Something, Dark Side", noting that he can get some clothes for the upcoming Summer. When he returns in pieces to Leia's horror, he brushes it off claiming to have gotten into a slap fight with a prep-droid over a pair of cargo shorts.
When explaining to Jerome why he should "Thank the Whites" in "Baby Got Black", Peter uses J.Crew as an example.
Community content is available under
CC-BY-SA
unless otherwise noted.