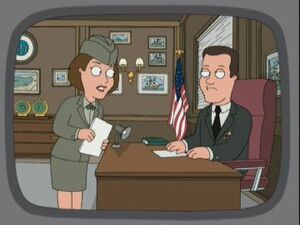 JAG (the American military acronym for Judge Advocate General) is an American adventure/legal drama television show. Originally conceived as Top Gun meets A Few Good Men, JAG was first aired on NBC on September 23, 1995, but was later canceled on May 22, 1996 after finishing 77th in the ratings. With a network change, rival network CBS picked up the series for a midseason replacement, beginning on January 3, 1997. CBS's decision to give JAG another chance would prove very profitable, as they aired it for nine additional seasons until April 29, 2005
While Peter is watching JAG in "Petergeist", Lieutenant Colonel Sarah MacKenzie stops her speech to Captain Harmon Rabb by asking him if anyone watches the show. Harm says that only old people watch it because the noise keeps them company.
Lieutenant Colonel Mackenzie is voiced by Alex Borstein and Captain Rabb is voiced by Mike Henry.
Community content is available under
CC-BY-SA
unless otherwise noted.