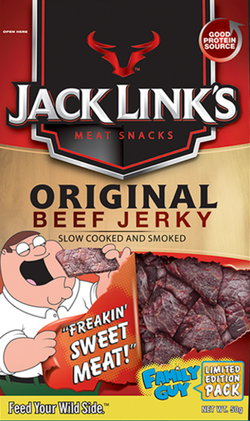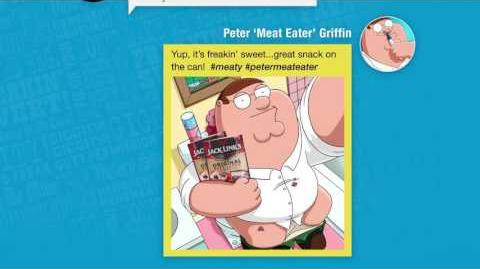 Jack Link's Beef Jerky is an American snack company that produces beef jerky, known since 2015 for their "Messin' with Sasquatch" ads.
In January of 2017, Jack Link's in Australia hosted a competition with each winner receiving a package of every season of Family Guy. To promote the event, the company advertised the competition on their website and Facebook, as well as releasing a "Family Guy Limited Edition Pack", featuring Peter Griffin. The contest ended on January 30th, 2017.[1]
In conjunction with the contest, Jack Link's sold collector's packs of their jerky product, while using the hashtag, #Stewie4Jerky.[2] They also advertised a competition on Facebook titled "Quagmire's Jerky Tasting Party" with the hashtag, #Quagmire4Jerky. Instead of announcing a winner, Jack Link's canceled the party and gave away five hundred packs of beef jerky.[3]
Community content is available under
CC-BY-SA
unless otherwise noted.