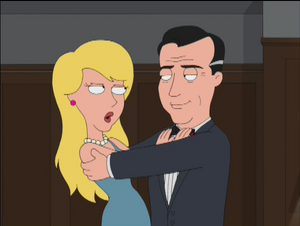 James Bond 007 is a fictional character created in 1953 by writer Ian Fleming, who featured him in twelve novels and two short story collections. The fictional British Secret Intelligence Service agent has also been used in the longest running and most financially successful English-language film franchise to date, starting in 1962 with Dr. No.
In "There's Something About Paulie", Jim Kaplan lies to Peter that a used car he purchases was previously owned by James Bond.
In "Brian in Love" Peter Griffin reacts to his wife Lois's request for him to bond with infant son Stewie by saying "Bond? James Bond.", which uses an inquisitive inflection on how Bond reveals himself in his films.
In "Family Gay", Peter says the doctor about to inject him with the gay gene is more persuasive than Bond. After sealing the death of his newest victim, Bond wants to have sex with his girlfriend, even though she doesn't want to. After multiple rejections, he angrily says that indeed she does. When the woman sees that he may get violent with her if she continues to say no, she finally gives in.
A generic James Bond villain bids 50 kroner, or $7.40 for Medieval Castle in "The Dating Game".
Community content is available under
CC-BY-SA
unless otherwise noted.