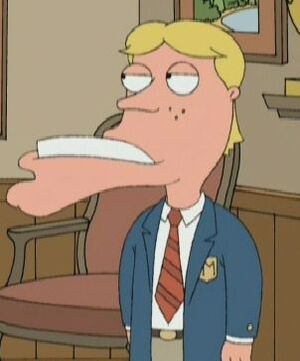 James Bottomtooth IV is a student at Morningwood Academy and member of the Skull and Bones Society. The son of James William Bottomtooth III, he appeared in "No Chris Left Behind". He is one of the students that initially welcome Chris Griffin to Morningwood Academy until Griffin reveals he is comparatively poor. Bottomtooth beats Chris with a money-filled sock that night. He inherited the large lower jaw and accompanying speech impediment from his father.
Community content is available under
CC-BY-SA
unless otherwise noted.