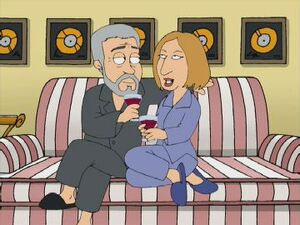 James Brolin (born July 18, 1940) is an American television, film, character actor, producer, and director, best known for his roles in soap operas, movies, sitcoms, and television. He is the father of actor Josh Brolin and husband of singer/actress, Barbra Streisand.
They appear together in "Wasted Talent", where they cuddle, and in "Stewie Kills Lois", Brolin asks his wife for a lot of money, which she shoots out of her nose.
After Peter admires the picture of Brolin hanging in his tailor's shop in "Are You There God? It's Me, Peter", he admits he stole it from elsewhere, leading to a string of gags of it being stolen from even God Himself.
Community content is available under
CC-BY-SA
unless otherwise noted.