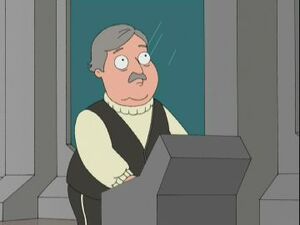 James Montgomery "Jimmy" Doohan (March 3, 1920 – July 20, 2005) was a Canadian character and voice actor best known for his role as Montgomery "Scotty" Scott in the television and film series Star Trek. Doohan's characterization of the Scottish Chief Engineer of the Starship Enterprise was one of the most recognizable elements in the Star Trek franchise.
In a DVD-exclusive "Lois Kills Stewie" scene, he appears as Scotty from Star Trek IV: The Voyage Home. When Meg Griffin is accidentally beamed into the holding tank of the Klingon Bird of Prey, he says that there are whales.
Community content is available under
CC-BY-SA
unless otherwise noted.