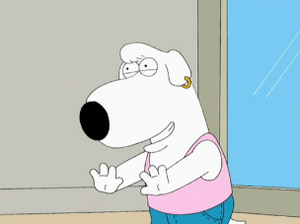 Jasper is Brian Griffin's cousin, a gay dog living in Los Angeles, and a self-declared rice-queen. He works at Club Med as a dance teacher, and let Brian stay in his apartment while Brian was a Hollywood "director." Jasper enjoys club music and often dances. He is known for constantly using camp innuendo.
In "E. Peterbus Unum" Peter brought Jasper home to be the family's new dog, much to Brian's surprise.
In "The Thin White Line" Brian offers to make up for the Griffin family's lost vacation by introducing them to fun-loving Jasper.
Brian and Jasper seem to have a very close family relationship, often turning to one another when the other is in need. When Brian was struggling to be a director in Hollywood in "Brian Does Hollywood", Jasper offered to put Brian in contact with some friends in the Porn-film industry. Brian proved successful at this career, but when the Griffin Family came to visit, Brian became so embarrassed that he attempted to cut them out of his life, so as to avoid them losing respect for him. Jasper, knowing that Brian would not be happy without his family, contacted Lois and Peter, alerting them to Brian's career and that he had been nominated for an adult film award, a "Woody."
In "You May Now Kiss the...Uh...Guy Who Receives", Jasper and his fiancee Ricardo visit Brian and the family in Quahog. There, he announced that he and Ricardo wanted to get married. Overjoyed, Brian was quick to offer the Griffin family home as the location, despite Lois's initial reservations about gay marriage. When Mayor Adam West attempted to outlaw gay marriage in order to draw attention from one of his many scandals, Brian went to extreme measures to overturn the ban. Once Mayor West agreed to not go through with the banning, Brian gave Jasper away at the wedding, which took place in the Griffin Garden.
In the opening of "PTV", he and Ricardo make a cameo appearance when Stewie is riding on his big wheel through the gay parade.
Jasper makes a small appearance web-chatting with Brian about his new play in "Brian's Play".
Jasper and Ricardo attend Brian's funeral in "Life of Brian". He also has a crowd scene cameo in "No Giggity, No Doubt".
He is voiced by Seth MacFarlane.
Appearances
Community content is available under
CC-BY-SA
unless otherwise noted.