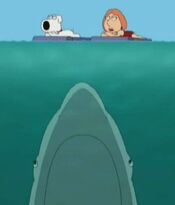 Jaws is the name of a great white shark from the film franchise of the same name, and the novel on which the initial film is based.
In "The Father, the Son, and the Holy Fonz", he stars in Jaws V: Fire Island.
In a scene in the uncensored versions of "Play It Again, Brian", he eyes Lois and Brian after they tell Peter there are no sharks in Martha's Vineyard, where the filming of the first two films took place.
Quagmire sneaks up on Lois at the market while humming the Jaws theme music in "Big Man on Hippocampus".
In "Brian Griffin's House of Payne", Jaws appears in Peter's television series Big Jaws, where he and the humans team up to fight the antagonist Big Jaws.
The shark's initial attack on Quagmire in "The Unkindest Cut" parodies the opening scene to Jaws.
He is voiced by Mike Henry in most of his appearances, one of the many anthropomorphic creatures that uses Mike's Bruce voice. Coincidentally, the name of the shark model from the film Jaws is called Bruce. [1] In "Brian Griffin's House of Payne", he's voiced by Seth MacFarlane.
Community content is available under
CC-BY-SA
unless otherwise noted.