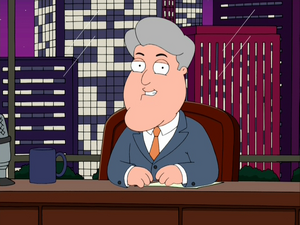 James Douglas Muir "Jay" Leno (born April 28, 1950) is an American stand-up comedian and television host. From 1992 to 2009 and again starting March 1, 2010 he is the host of NBC's The Tonight Show with Jay Leno. In between his two stints, he was the host of his own self-titled show entitled The Jay Leno Show.
Stewie Griffin defends Leno following a jab Peter made at Leno about Lois's new French toast in "The King Is Dead"
In "Patriot Games", he threatens to kill New England Patriots quarterback Tom Brady. Despite the fact that he was able to successfully throw a knife into Tom Brady's neck, Brady survived. Leno provided his own voice in this appearance.
In "Meet the Quagmires", Peter screwed up the future so that Chevy Chase ended up replacing Johnny Carson on the tonight show and not Leno.
Jesus appears on The Tonight Show with Jay Leno in "I Dream of Jesus". Dave Coulier was his other guest.
Leno made a live-action appearance in "We Love You, Conrad" on the set of The Tonight Show, doing a snappy monologue about Lauren Conrad's relationship with Brian Griffin.
In the DVD cut of "Friends of Peter G", a clean and sober Peter and his three friends take a critical view of Jay Leno's humor.
Jeff and Brenda Quagmire watch The Tonight Show with Jay Leno in "Screams of Silence: The Story of Brenda Q.".
He was part of a joke as the number one thing a parent doesn't want to hear from their child as part of The Top Ten Things You Don't Want to Hear From Your Child that Stewie Griffin declared on Late Show with David Letterman when Stewie questioned "Why can't you get a show at 10pm like Leno? "
In the DVD cut of "And Then There Were Fewer", Herbert and Seamus talk about how great CBS is with their shows, but they prefer to watch Leno instead of Letterman. Herbert also points out that Leno coming back was great because he did not find Conan funny at all.
Stewie claims he can hear the jokes that Jay will do when Mayor Adam West is arrested for murder in "12 and a Half Angry Men". But when pushed by Brian to explain the jokes, he threatens to fake being allergic so the family would have to get rid of Brian and Brian retreats.
Leno provides his own voice in "Underage Peter" when the guys try to go to a neighboring town after Mayor Adam West raises the drinking age in Quahog to fifty. There, they find that Mayor Leno has prohibited alcohol sales except for people dressed head-to-toe in jeans.
In "Island Adventure", Stewie and Brian try to catch up a group of castaways on things they have missed out since being lost for up to twenty years.
Unless indicated otherwise, Leno is impersonated by Seth MacFarlane.
Community content is available under
CC-BY-SA
unless otherwise noted.