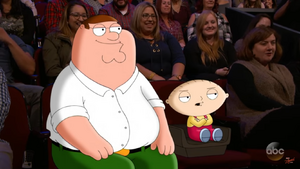 Jimmy Kimmel Live! is an American late-night talk show, created and hosted by Jimmy Kimmel, and broadcast on ABC. The nightly hour-long show made its debut on January 26, 2003.
To plug Family Guy's 300th episode "Dog Bites Bear", Peter and Stewie made a guest appearance from the audience of Jimmy Kimmel Live!, with Jimmy referring to the show as "The Family Guy" being corrected. Jimmy in turn compares the show's numbers to The Simpsons and recalls Seth MacFarlane's sole outing as host of the Oscars. There is an extended gag of Jimmy's initials being "jk" and a shot at the family understanding Stewie. Stewie recalls Jimmy's role onThe Man Show and makes a reference to Adam Carolla before Peter points out that the episode will feature "the dog and the baby" and Jimmy repeats "The Family Guy".
Community content is available under
CC-BY-SA
unless otherwise noted.