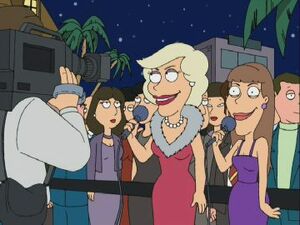 Joan Rivers (born Joan Alexndra Molinsky; June 8, 1933 - September 4, 2014) was an American comedian, actress, talk show host and businesswoman. She was known for her brash manner and loud, raspy voice with a heavy metropolitan New York accent. Rivers' comedic style relied heavily on poking fun at herself and other celebrities.
She appears with her frequent co-host and daughter Melissa at the Adult Movie Awards in "Brian Does Hollywood". She made herself believe she was covering the ceremonies for E!.
She is mentioned in a news report in "Don't Make Me Over" by news anchor Tom Tucker who says that the next news story will concern "Joan Rivers speaking from beyond the grave," despite the fact that the actress was still alive when the episode first aired.
Stewie comments about "the guy who killed Joan Rivers" in "American Gigg-olo" while performing surgery on Brian. Her death resulted in a malpractice suit which Joan's family won in 2016.[1]
She is voiced by Louise DuArt.
Community content is available under
CC-BY-SA
unless otherwise noted.