Wiki Targeted (Entertainment)
Play Sound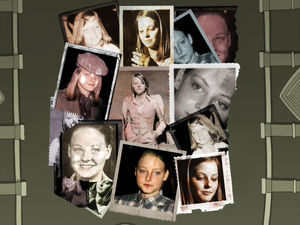 Alicia Christian "Jodie" Foster (born November 19, 1962) is an American actress, film director and producer.
Foster began acting in commercials at three years old, and her first significant role came in the 1976 film Taxi Driver as the preteen prostitute, Iris, for which she received a nomination for the Academy Award for Best Supporting Actress. She won an Academy Award for Best Actress in 1989 for playing a rape survivor in The Accused. In 1991, she starred in The Silence of the Lambs as Clarice Starling, a gifted FBI trainee, assisting in a hunt for a serial killer. This performance received international acclaim and her second Academy Award for Best Actress. She received her fourth Academy Award nomination for playing a hermit in Nell (1994).
Peter Griffin quotes Foster's line "No words. Should've sent...a poet" from her film Contact in "Da Boom" when the Griffins find the Twinkie factory.
In "Model Misbehavior", Foster is at a dock with John Hinckley, Jr., her stalker, when she realizes she was wrong about men.
She was also mentioned in "Sibling Rivalry" when the gym teacher wants the applicator shaped like Foster's knuckles.
She was also seen in "Peter's Daughter", when Peter called her a "bad man". She is seen in bed with a woman whose husband has just come home. In a manly voice, Foster assures her not to worry, then farts.
In the Universe Without Christianity, Hinckley has placed her image on the ceiling of the Sistine Chapel in "Road to the Multiverse".
King Herod, played by Carter Pewterschmidt, pledges to kill the new messiah in "Jesus, Mary & Joseph", noting that then Jodie Foster would love him.
Community content is available under
CC-BY-SA
unless otherwise noted.