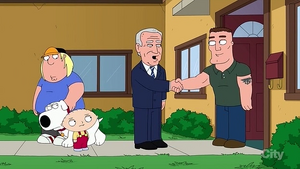 Joseph Robinette "Joe" Biden, Jr. (born November 20, 1942) served as the 47th Vice President of the United States from 2009 to 2017 under President Barack Obama. He is a member of the Democratic Party and was a United States Senator from Delaware from January 3, 1973, until his resignation on January 15, 2009, following his election to the Vice Presidency. In 2012, Biden was elected to a second term alongside Obama.
Brian is stuck pretending to be a normal dog in "Brokeback Swanson" to avoid getting caught cheating with Tori, a married woman after he finds out that her husband, Vic is a former navy seal who is bitter about not getting proper credit for killing Osama bin Laden, noting that he didn't even get to shake Joe Biden's hand.
After she takes off, leaving Brian behind, Stewie and Chris try to claim Brian as their dog, although they are met with rejection. As an ace up their sleeves, they introduce Vic to Vice President Biden who thanks Vic for killing the man they "told him" was Osama, getting him to let Brian leave.
Biden is a guest on Peter's Six Second Talk Show in "HTTPete".
Community content is available under
CC-BY-SA
unless otherwise noted.