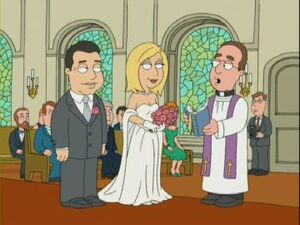 John Joseph Travolta (born February 18, 1954) is an American actor, dancer and singer. He first became known in the 1970s, after appearing on the television series Welcome Back, Kotter and starring in the box office successes Saturday Night Fever and Grease. Travolta's career re-surged in the 1990s, with his role in Pulp Fiction, and he has since continued starring in Hollywood films, including Face/Off, Ladder 49 and Hairspray. Travolta married actress Kelly Preston in 1991.
When Lois Griffin refuses to believe in the ghosts haunting her home in "Petergeist", Brian comments on her being more in denial than when Travolta married Preston. At the wedding, he doesn't know what to do with his bride and relies on her nodding or shaking his head to indicate when he is right or wrong.
He is also referenced in "The Father, the Son, and the Holy Fonz" with his movies Face/Off and The Boy in the Plastic Bubble.
He appears as Danny Zuko for the original ending of Grease in "And I'm Joyce Kinney".
Peter notes when Lois gets twin beds in "Mr. and Mrs. Stewie" that if God had wanted him not to sleep with his wife he would have been John Travolta.
John is mentioned as being bald in "The Old Man and the Big 'C'".
Quagmire is able to secure a private plane after walking in on John Travolta with someone other than Kelly Preston in "Bigfat".
In "Peter's Def Jam", Peter uses Travolta being a pilot as justification for becoming a DJ. In a cutaway, after reaching cruising altitude, Travolta encourages the passenger that they can take off their wigs and be gay.
When trying to name people other than himself to go on Quagmire's camping trip in "No Giggity, No Doubt", Peter suggests John Travolta from one of their Cutaway gags.
Community content is available under
CC-BY-SA
unless otherwise noted.