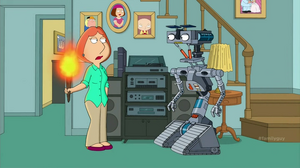 Short Circuit is a 1986 comedy science fiction film starring Ally Sheedy and Steve Guttenberg and directed by John Badham. Fisher Stevens, Austin Pendleton, and G. W. Bailey co-star, with Tim Blaney providing the voice of robot "Number 5."
The story revolves around a sentient robot labeled "SAINT Number 5." The acronym SAINT stands for "Strategic Artificially Intelligent Nuclear Transport." The robot later takes the name "Johnny 5".
A sequel, Short Circuit 2, was released in 1988.
In "Brian the Closer", Peter becomes a Johnny 5 version of himself.
After going on a shopping spree in "Undergrounded", Lois reveals that Peter bought a T-shirt with Johnny 5 on it when he claimed to have been working. He retorts which he is actually wearing was for her Mother's Day gift.
Community content is available under
CC-BY-SA
unless otherwise noted.