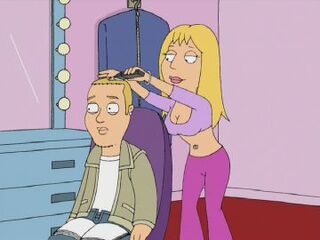 Justin Randall Timberlake (born January 31, 1981) is a pop musician and actor. In addition to his caricatures on Family Guy, he has also provided voice work on The Cleveland Show. He starred as Boo-Boo Bear in the CGI/live-action Yogi Bear 2010 film and in Friends With Benefits with Mila Kunis. Jessica Biel began dating singer and actor Justin Timberlake in 2007. In late 2011, Timberlake proposed to Biel and the couple married on October 19, 2012.
In "Ready, Willing, and Disabled", Stewie Griffin ponders if he is a teen idol.
In the "Family Guy Viewer Mail No. 1" segment "Supergriffins", Peter Griffin, as Britney Spears, visits *NSYNC's dressing room, kisses Spears's then-boyfriend Timberlake and cuts off a lock of his hair. He later appears in Town Hall in a meeting about The Griffins' mischief.
He also is struck on the head by Stewie Griffin when nominated for a Grammy in "Model Misbehavior". The award instead is given to Nelly.
He is on the list of celebrities Peter doesn't like in "420".
Peter called him "Justin Timber-homo" during a performance of the theme song in Las Vegas on the Family Guy: Live in Vegas CD.
When Peter poses as a woman in "Trans-Fat", he bothers Principal Shepherd while that latter is singing karaoke, requesting him to sing Justin Timberlake.
Justin is voiced by Chris Cox.
Community content is available under
CC-BY-SA
unless otherwise noted.