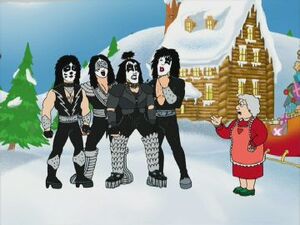 Kiss (often stylized as KISS) is an American hard rock band formed in New York City in January 1973. Easily identified by its members' face paint and flamboyant stage outfits, the group rose to prominence in the mid to late 1970s on the basis of their elaborate live performances, which featured fire breathing, blood spitting, smoking guitars, shooting rockets, levitating drum kits and pyrotechnics. Kiss has been awarded 24 gold albums to date. The band has sold more than 40 million albums in the United States, of which 19 million have been certified by the RIAA, and their worldwide sales exceeds 100 million albums. Each member of the band Gene Simmons, Paul Stanley, Peter Criss, and Ace Frehley voices themselves.
Peter Griffin is a big fan of the band. His wife, Lois, once dated Simmons before he became famous.
In "Road to Europe", it is revealed on a public access show in Quahog, Rhode Island, which announced that KISS Stock was coming to the Northeast. Dave and Dotty Campbell are fans as well
In "A Very Special Family Guy Freakin' Christmas", they star in Kiss Saves Santa, a Christmas special where they save Santa Claus from a pterodactyl.
In "Don't Make Me Over", Simmons says that tongue wagging is cool. His tongue is rolled out so long that it has to be rolled back up manually. He appears on the Saturday Night Live stage at the end of the episode.
In "Ratings Guy", Peter makes the creators of Mad Men make Jon Hamm's character a Star Wars Jedi. KISS guitarist Ace Frehley appears and plays the Star Wars theme.
KISS' "Lick It Up" plays on every channel in Brian's Hummer in "Girl, Internetted".
Filmography
Community content is available under
CC-BY-SA
unless otherwise noted.