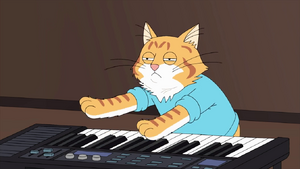 Keyboard Cat is an Internet meme that consists of a video from 1984 of a female cat called "Fatso" wearing a blue shirt and "playing" an upbeat rhythm on an electronic keyboard. The video was posted to YouTube under the title "charlie schmidt's cool cats" in June 2007. Schmidt later changed the title to "Charlie Schmidt's Keyboard Cat. After Fatso died, another cat named "Bento" was used to create new videos.
After millennial hipster Hammer is killed while texting on a hoverboard in "HTTPete", Peter notes that it seems to be in poor taste that they hired Keyboard Cat to play at his funeral.
Community content is available under
CC-BY-SA
unless otherwise noted.