m

(9 intermediate revisions by one other user not shown)
Line 1:
Line 1:
 

[[File:Kobe Bryant.jpg|300px|right]]

 

[[File:Kobe Bryant.jpg|300px|right]]

 
+

'''Kobe Bean Bryant''' (August 23, 1978 - January 26, 2020) was an American professional basketball player who played for the Los Angeles Lakers in the National Basketball Association (NBA).

−

'''Kobe Bean Bryant''' is an American shooting guard who plays for the Los Angeles Lakers in the National Basketball Association (NBA). Bryant enjoyed a successful high school basketball career and made instant headlines when he decided to go directly into the NBA upon graduation. He was selected with the 13th overall pick in the 1996 NBA Draft by the Charlotte Hornets, then traded to the Los Angeles Lakers. Bryant and then-teammate Shaquille O'Neal led the Lakers to three consecutive NBA championships from 2000 to 2002. After losing in the 2008 NBA Finals, Bryant led the Lakers to two consecutive championships in 2009 and 2010 and was named NBA Finals MVP on both occasions.

 
 
 
 

In 2003, Bryant was accused of sexual assault at a hotel in Edwards, Colorado by Katelyn Faber. Bryant admitted an adulterous sexual encounter with the accuser, but denied the sexual assault allegation. In September 2004, prosecutors dropped the case after his accuser informed them that she was unwilling to testify. Bryant's accuser brought a separate civil suit against him that was ultimately settled out of court.

 

In 2003, Bryant was accused of sexual assault at a hotel in Edwards, Colorado by Katelyn Faber. Bryant admitted an adulterous sexual encounter with the accuser, but denied the sexual assault allegation. In September 2004, prosecutors dropped the case after his accuser informed them that she was unwilling to testify. Bryant's accuser brought a separate civil suit against him that was ultimately settled out of court.

Line 9:
Line 9:
 
 
 

Colorado's welcome sign in "[[Road to Rupert]]" establishes they don't want Bryant's rape case to be a part of their reputation.

 

Colorado's welcome sign in "[[Road to Rupert]]" establishes they don't want Bryant's rape case to be a part of their reputation.

 
+
 
+

[[Quagmire]] attributes NBA players cooking skills to their ability to score with women in "[[Pilling Them Softly]]". However, he attributes Kobe Bryant's ability to "another source."

 

[[Category:African Americans]]

 

[[Category:African Americans]]

 

[[Category:Celebrities]]

 

[[Category:Celebrities]]

 
+

[[Category:Deceased]]
---
Revision as of 21:53, 26 January 2020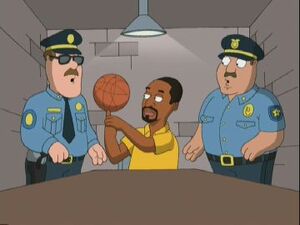 Kobe Bean Bryant (August 23, 1978 - January 26, 2020) was an American professional basketball player who played for the Los Angeles Lakers in the National Basketball Association (NBA).
In 2003, Bryant was accused of sexual assault at a hotel in Edwards, Colorado by Katelyn Faber. Bryant admitted an adulterous sexual encounter with the accuser, but denied the sexual assault allegation. In September 2004, prosecutors dropped the case after his accuser informed them that she was unwilling to testify. Bryant's accuser brought a separate civil suit against him that was ultimately settled out of court.
While Bryant is being interrogated for his suspected rape in "The Perfect Castaway", he spins a basketball on his finger, distracting the guards.
He is also referenced in "The Father, the Son, and the Holy Fonz", that arguing with Francis Griffin is like sex with Bryant, because you can kick and scream all you want, but the sex is going to happen anyway.
Colorado's welcome sign in "Road to Rupert" establishes they don't want Bryant's rape case to be a part of their reputation.
Quagmire attributes NBA players cooking skills to their ability to score with women in "Pilling Them Softly". However, he attributes Kobe Bryant's ability to "another source."
Community content is available under
CC-BY-SA
unless otherwise noted.