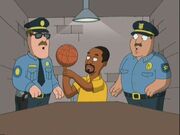 Kobe Bean Bryant is an American shooting guard who plays for the Los Angeles Lakers in the National Basketball Association (NBA). Bryant enjoyed a successful high school basketball career and made instant headlines when he decided to go directly into the NBA upon graduation. He was selected with the 13th overall pick in the 1996 NBA Draft by the Charlotte Hornets, then traded to the Los Angeles Lakers. Bryant and then-teammate Shaquille O'Neal led the Lakers to three consecutive NBA championships from 2000 to 2002.
In 2003, Bryant made headlines when he was accused of sexual assault at a hotel in Edwards, Colorado by Katelyn Faber. Bryant admitted an adulterous sexual encounter with the accuser, but denied the sexual assault allegation. In September 2004, prosecutors dropped the case after his accuser informed them that she was unwilling to testify.Bryant's accuser brought a separate civil suit against him that was ultimately settled out of court.
While Kobe Bryant is being interrogated for his suspected rape of Katelyn Faber in The Perfect Castaway, he spins a basketball on his finger, distracting the guards.