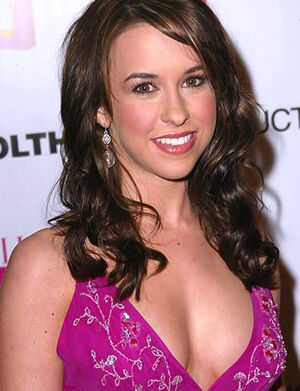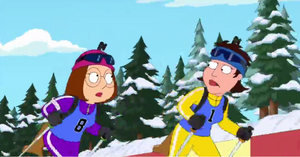 Lacey Chabert (born September 30, 1982 in Purvis, Mississippi) is an American actress and voice actress.
She voiced Meg Griffin for the first season on Family Guy, however, some episodes aired out of order, making some of her work second season episodes. Due to contractual restrictions, Chabert could not be credited with her work on the show, although her name has appeared on later compilations that have included episodes she was involved in. She also provided the voice of Jan Brady in "Death Has a Shadow".
She is perhaps best known for roles including Gretchen Wieners in the movie Mean Girls, Claudia Salinger on the FOX teen drama Party of Five, the voice of Eliza Thornberry from Nickelodeon's The Wild Thornberrys, and the voice of Zatanna in DC's Young Justice.
She was briefly referred to by name in "Business Guy" when Peter Griffin threatens to replace Lois.
Archive recording of her voicing Meg Griffin is used when Stewie Griffin and Brian travel back into the past in "Back to the Pilot".
Lacey is credited for providing one of Meg's lines in "Yug Ylimaf".
Meg reveals several flashback scenes from previous episodes to illustrate training for the Olympics in "Griffin Winter Games", including one from "I Never Met the Dead Man". During her trials, she finds herself competing against Lacey as they and Peter both try to tell each other "Shut up, Meg." Lacey and flashback Meg are voiced by Mae Whitman.
Community content is available under
CC-BY-SA
unless otherwise noted.