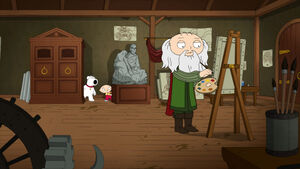 Leonardo di ser Piero da Vinci (April 15, 1452 – May 2, 1519) was an Italian polymath: painter, sculptor, architect, musician, scientist, mathematician, engineer, inventor, anatomist, geologist, cartographer, botanist and writer. Leonardo has often been described as the archetype of the Renaissance Man, a man of "unquenchable curiosity" and "feverishly inventive imagination". He is widely considered to be one of the greatest painters of all time and perhaps the most diversely talented person ever to have lived.
He is featured in a brief montage of people lost in the last 1000 years in "Da Boom".
In "The Big Bang Theory", Bertram attempts to erase Stewie Griffin's existence by successfully killing Leonardo da Vinci. Stewie is descended from Da Vinci on Lois's side of the family as only Peter's DNA would affect Bertram's own existence after Peter's vasectomy in "Sibling Rivalry". The DVD commentary confirms this although the episode animatic expands that Da Vinci specifically must be killed to eliminate Stewie's intellect from being passed on to another potential future mate of Peter.
Da Vinci was voiced by Seth MacFarlane.
Community content is available under
CC-BY-SA
unless otherwise noted.