Lottery Fever
The Griffins win the lottery.

Season: 10 Episode: 1
Total Episode Count: 166
Prod. no.: 9ACX01
First Aired: September 25, 2011

Guest Starring: Judy Greer
Featuring: Peter Griffin, Lois Griffin
Also Appearing: Meg Griffin, Chris Griffin, Stewie Griffin, Brian Griffin, Joe Swanson, Glenn Quagmire, Mayor Adam West, Horace, Tom Tucker, Joyce Kinney, Tricia Takanawa, Angela, Nikki, Ricardo Montalban, William Shatner, Mort Goldman, Bruce, Eduard Khil, Carstairs, Sandra, Bruce Jenner, Michael McDonald, Anna Paquin
Musical Numbers: I'm So Happy to Finally Be Back Home, Checking Lottery Tickets, Makin' Whoopee

Director: Greg Colton
Assistant Director: Young Baek
Writers: Andrew Goldberg
Storyboarders: Ivaylo Angelov, Annemarie Brown, Mark Covell, Michael Loya

Plot: When Peter asks Lois for a loan to open a sushi restaurant, she points out that the family is running low on cash and needs to live on a strict budget. When word spreads that the Powerball lottery is up to one hundred fifty million dollars, Peter obtains a second mortgage on the house to buy two hundred thousand tickets. After tormenting the family through four hundred thousand fake lottery tickets, Brian immediately pulls a winning lottery ticket from a box of real tickets. Despite Lois' suggestion that they shouldn't let the money go to their heads, Peter quits his job and spends his time hanging out at The Drunken Clam.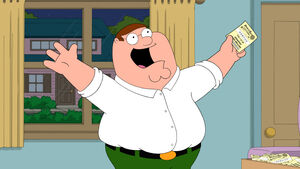 At the Clam, Quagmire talks Peter into giving him a loan for an investment and Joe asks for money for a gift for Bonnie. When the guys try to leave, Peter makes them feel guilty and insists they stay. Soon, Peter begins throwing his weight around and the guys finally leave him. When Lois expresses her concern about the money changing the family, Peter wins her over with an enormous diamond ring. Over a lunch out with the family, Peter discovers the family has gone through all of the lottery winnings. Determined to recover, the family plays and wins again only to go broke just as fast.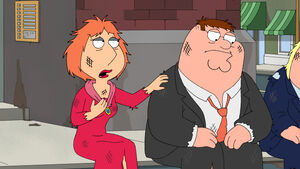 Desperate, Lois convinces Peter to go see his friends again. Peter apologizes for his behavior and tells Quagmire and Joe that he'll be living in a cardboard box. Quagmire writes Peter a check for the amount his successful investment paid off in order to recover his house. Despite Lois trying to put a cheery spin on things being back to normal, Peter and the family continue to be depressed over having everything and losing it.

Community content is available under
CC-BY-SA
unless otherwise noted.