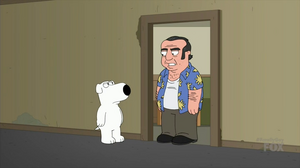 Lou Spinazola is the manager of the seedy apartment building that Brian moves into when he is forced out of the Griffin home after making a racially insensitive tweet in "The D in Apartment 23". When Brian arrives to claim the apartment, Lou asks if he is there for Time magazines with select letters cut out. After Brian gets the key to the apartment, Lou informs him that his only rule is not to kiss the mailman. Brian doesn't believe this to be a problem, but is impressed when the mail carrier arrives off-screen.
Lou has to deal with Brian when he's short on rent money in "Petey IV". When Brian falls for a co-worker but she catches him masturbating to pictures of her mother, Brian decides to frame her on Lou's advice with drugs.
Lou shows Brian videos of him having sex with his girlfriend in "Crimes and Meg's Demeanor" before he has to leave for his mother's wake.
After getting married in "Married...With Cancer", Brian moves back into the apartment building with his new bride Jess and her mother, Helen.
Community content is available under
CC-BY-SA
unless otherwise noted.