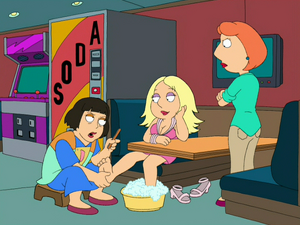 MADtv was an American sketch comedy television series. It licenses the name and logo of Mad Magazine, but otherwise has no connection with the humor magazine outside the animated Spy vs. Spy and Don Martin cartoon shorts and images of Alfred E. Neuman that the show featured during the late 1990s. Its first TV broadcast was on October 14, 1995. The one-hour show aired Saturday nights on FOX until its cancellation in 2009.
Family Guy cast members Alex Borstein, Nicole Sullivan, Phil LaMarr, Will Sasso, Debra Wilson, Ike Barinholtz and Bobby Lee are former MADtv cast members. Tricia Takanawa's voice originated in Ms. Swan, one of Borstein's characters that appeared during recurring sketches.
According to "Don't Make Me Over", in which Borstein's Ms. Swan appeared, Saturday Night Live, its main competitor, had 1.5x the number of viewers that MADtv did.
If Peter Griffin had never married his wife Lois, Osama bin Laden would have been found hiding on the set of MADtv in the year 2007A, as revealed in a dinner conversation in "Meet the Quagmires". The reasoning was that "nobody would ever look there", another jab at its viewership or lack thereof.
In "Prick Up Your Ears", Jerry Kirkwood compares the Opal Ring Players to the cast of MADtv, but says the Players aren't as good.
In "Spies Reminiscent of Us", it was revealed that the spies from Spy vs. Spy had settled their differences.
Community content is available under
CC-BY-SA
unless otherwise noted.