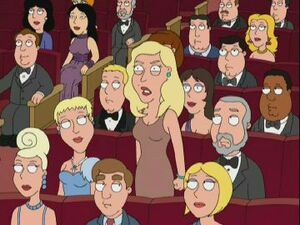 Madonna Louise Ciccone, (born August 16, 1958), known professionally as Madonna, is an American recording artist, actress and entrepreneur. Born in Bay City, Michigan, and raised in Rochester Hills, Michigan, she moved to New York City in 1977, for a career in modern dance. After performing as a member of the pop musical groups Breakfast Club and Emmy, she released her self-titled debut album Madonna in 1983 on Sire Records. She is officially the biggest selling female of all time.
She first appears in "Saving Private Brian", when rapper Ja Rule received the award for biggest posse, she replied "What?!", angrily. "No, Madonna, posse", replied the announcer, implying she misheard posse and had mistaken it for pussy, which is slang for vagina.
She was called stupid by Peter, Brian, and Francis Griffin during a conversation in "The Father, the Son, and the Holy Fonz".
Two Bullfrogs learn that she is raising the child of the Ethiopian native they are eating the flies off of in "Believe It or Not, Joe's Walking on Air".
In "Peter's Progress", she is one of the original settlers in Quahog, where she celebrates her 16th birthday.
Her songs "Ray of Light" and "Crazy for You" were sung by Peter in "New Kidney in Town" and Chris in "Long John Peter", respectively.
Meg's date Toby needs to take a heart to Madonna in "Valentine's Day in Quahog". When Meg asks if Madonna needs a heart transplant, Toby tells her that Madonna doesn't need a transplant but just doesn't want anyone else to have it.
While searching for the Fountain of Youth in "Turkey Guys", Peter stumbles onto a Madonna concert and tells the rest of his party that it is far from their location.
During the recording of a DVD commentary in "You Can't Handle the Booth!", Meg talks over the setup of a cutaway gag by Lois of Madonna, Nicki Minaj and Iggy Azalea robbing a bank titled 'Skank Robbers'.
In "Coma Guy", Lois compares Peter's reluctance to read to the time they played truth or dare with present-day Madonna, setting up a cutaway of Madonna asking if she looks older.
Madonna is voiced by Rachael MacFarlane.
Community content is available under
CC-BY-SA
unless otherwise noted.