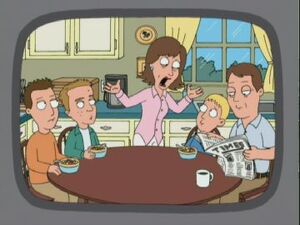 Malcolm in the Middle was an American comedy television series created by Linwood Boomer for the FOX Network. The series was first broadcast on January 9, 2000, and ended its six-and-a-half-year run on May 14, 2006, after seven seasons and 151 episodes.
When the Griffins arrive in Asiantown in "Breaking Out is Hard to Do", Jackie Chan recognizes Meg as "Malcolm in Middle", presumably referring to series star Frankie Muniz.
The family watches an episode of the show in "I Take Thee Quagmire". Hal, voiced by original portrayer Bryan Cranston, takes a small refrigerator door and hits his wife Lois, voiced by Beth Littleford, with it to shut her up after she complains about how unappreciative they are of her. After hitting her with the refrigerator door, Hal then realizes that he and the kids are free from her tyrannical reign. He and the boys then hold hands and walk into the sunset.
A cutaway gag in the DVD version of "Brian's Got a Brand New Bag" features Malcolm, now in his fifteenth season in a joke about child actors getting old while still trying to play their roles.
Community content is available under
CC-BY-SA
unless otherwise noted.