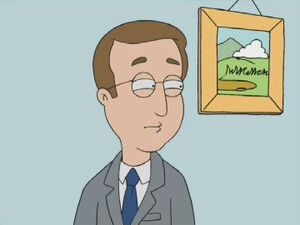 Max Weinstein is a Jewish accountant.
In "When You Wish Upon a Weinstein", he is the Jew that Peter Griffin inadvertently called upon when Peter sang "I Need a Jew", which he finished minutes before Weinstein showed up. When he came to Peter's door with car trouble, Peter enlisted his help in getting back the money that he used to buy volcano insurance. When Max helped Peter's son Chris with his homework, Peter thought that a way to make Chris good with numbers was to make him Jewish. He was voiced by Peter Riegert in his first appearance.
He reappeared in "Family Goy". When Lois found out that her mother, Barbara Pewterschmidt, was born Jewish, and thus, she is as well, she asked Weinstein for advice on being Jewish. He advises her to go on as she usually does. In this appearance, he is voiced by Jeff Bergman.
Community content is available under
CC-BY-SA
unless otherwise noted.